IECC/HERS Affiliate Training
BER is proud to announce a new training opportunity: IECC/HERS Compliance Specialist. This is the first comprehensive code training available.  While it is geared towards preparing HERS Raters for the Residential Energy Inspector/Plans Examiner exam, this deep dive into the content of the International Energy Conservation Code is a great opportunity for anyone who wishes to have a better understanding of energy codes.  The focus is on the 2018 IECC, but students will also learn about the history of energy codes, highlights of previous versions, and get a preview of the 2021 IECC under development.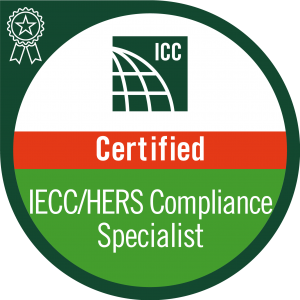 IECC/HERS Compliance Specialist certification is a joint effort by RESNET and ICC. It leverages the skills you already possess as a certified HERS Rater, allowing you to expand your business by working with code officials to supplement the work of jurisdictions facing resource constraints that affect their ability to conduct the necessary reviews.
After passing the optional Residential Energy Inspector/Plans Examiner exam (additional $219), HERS Raters and RFI's will be automatically qualified to obtain the IECC/HERS Compliance Specialist certification.  Qualified individuals will be able to evaluate energy code compliance and home energy performance.
Qualifies for educational credits

10 hours of RESNET Professional Development Hours
1 ICC Continuing Education Unit
2.86 BPI Continuing Education Units

Features bonus training material

Preview of 2021 IECC
Practice test
Coming soon: lessons on state-specific code adoption

Online/On-Demand

Train at your own pace from the comfort of your own home
Eliminate missed time from work and travel costs

IECC/HERS Compliance Specialist training includes

4 video training modules
Periodic quizzes to check for program comprehension

Cost-Effective – Only $349

BER Rater members receive a $50 discount
State-specific lesson $49/each or 3 for $99

Created by industry professionals with over 60 years of combined experience
To register for training, visit ICC's learning center and search the course catalog for course ID #37899 Residential Energy Inspector/Plans Examiner.